CYBERSECURITY OPERATIONS (SOC) AND MANAGED SERVICES
Protecting critical data assets and digital services with a prevention-focused approach
Large companies and critical infrastructure operators are not the only targets of increasingly sophisticated and dangerous attacks.
4IG SOC - MANAGED SECURITY OPERATIONS CENTER
Building and maintaining an in-house Security Operations Center (SOC) is typically a privilege for large corporations. An alternative is when an external, highly skilled cybersecurity team – such as the SOC TEAM of 4iG – is constantly monitoring systems, detecting anomalies, fending off incidents, and doing the follow-up. According to a 2018 study (SOC-as-a-Service versus DIY SOC - A Frost & Sullivan Report), creating and maintaining a cybersecurity team for a medium-sized company for 3 years is almost nine times more expensive than buying the service.
Every day, more and more sophisticated and dangerous forms of attack emerge targeting large companies, public institutions, critical infrastructure operators or even small and medium-sized enterprises.
In addition to making it impossible to operate, business secrets, personal data and valuable information are usually disclosed as a result of a successful attack, which - in addition to direct material damage - can significantly damage the reputation of the attacked organization.Therefore, today it is imperative for any company to pay special attention to comprehensive cybersecurity, constantly monitoring active and passive attack vectors, following threats against the company and its supply chain.
TYPICAL PROBLEM
4IG SOC SERVICE MONTHLY SUBSCRIPTIONS
Lack of specialist staff
there are few professionals in the labor market, high wage demands (enterprise/multi background)
Specialists on call up to 7x24 with clear alert and escalation routes
Cybersecurity investments
inflexible, difficult to plan
long life cycle, capacity planning, rapid obsolescence
capital-intensive
length and cost of implementation projects
Flexible resizability of protection software and hardware as part of the monthly subscriptions service, initial rollout
More sites, the protection of teleworkers is difficult technical and human factors of protection are challenging to adjust to the location of users
Location-independent, flexible protection building blocks and remote monitoring services
Data protection challenges - GDPR and beyond there is no harmony between business, legal and technical approaches in general. One of the foundations of adequate cybersecurity is that both customer/employee personal data and business data deserve special protection, it can also be difficult to develop and enforce policies
Our comprehensive data protection compliance service is also available
WHY IS IT NECESSARY TO HAVE AN IN-HOUSE OR OUTSOURCED SOC SERVICE AND CONSTANT MONITORING?
Based on European examples over the past few years, ransomware has also targeted medium and large enterprises. No one can stay out of sight, and there's no such thing as a company too small to be a target.
Cybersecurity monitoring requires a different approach and knowledge base than the general operation of IT systems. It is unrealistic to expect an administrator to act as a defense specialist because Jedi knights do not exist.
Current complex attacks require continuous analysis in addition to depth and border protection systems. For this reason, the 'trinity' of firewall, antivirus protection and data backup are required, but it is far from sufficient protection.
Through IT systems, any part of a company can be paralyzed, because it is not true that revenue/production is not related to IT. Production plans, customer data, or invoices are all information that could potentially become available in the event of a cyberattack.
WHY 4IG'S TEAM AND SERVICE IS BEST SUITED TO STRENGTHEN OR TO REPLACE AN IN-HOUSE SOC?
We continuously monitor network traffic in search of anomalies, using our protection tools to analyze key input channels (e.g. emails) to identify attacks (spear-phishing, social-engineering, business e-mail compromise, etc.).
With our feedback, we help our partners to take the necessary and proportionate measures of protection.
We continuously monitor threats to our customers, analyze the discovered various cybersecurity risks, detect security incidents, help to manage them as mandated, and continuously follow them up.
TECHNOLOGY
In contrast to the creation of an in-house SOC, when ordering 4iG's service, there is no need for serious technological investments or separate system development, thus you may save investments into very large financial and human capacities.
In this case, it is the service provider's task and responsibility to provide the service with a solution capable of tracking changes in our customer's systems and following good industrial practices along information security trends.
All costs (maintenance, renewal, etc.) are included in the monthly subscriptions, on top of which no extra expenses are required.
PROCESSES
When introducing the service – following a complex survey –, 4iG specialists support company decision makers in identifying risks, mapping threats and developing appropriate processes. For the vast majority of introductions, this does not require extra expenditure.
HUMAN RESOURCES
4iG's dynamically expanding security team has a wide range of security certifications, from CISM certification to OSCP.
Our client has the necessary capacity practically from the conclusion of the contract, whether choosing the 5x8 or the 7x24 operating plan.
In addition to security operations specialists, our customer also has access to the resources of our consulting and security technology team.
4iG'S CUSTOMIZED PACKAGE OFFERS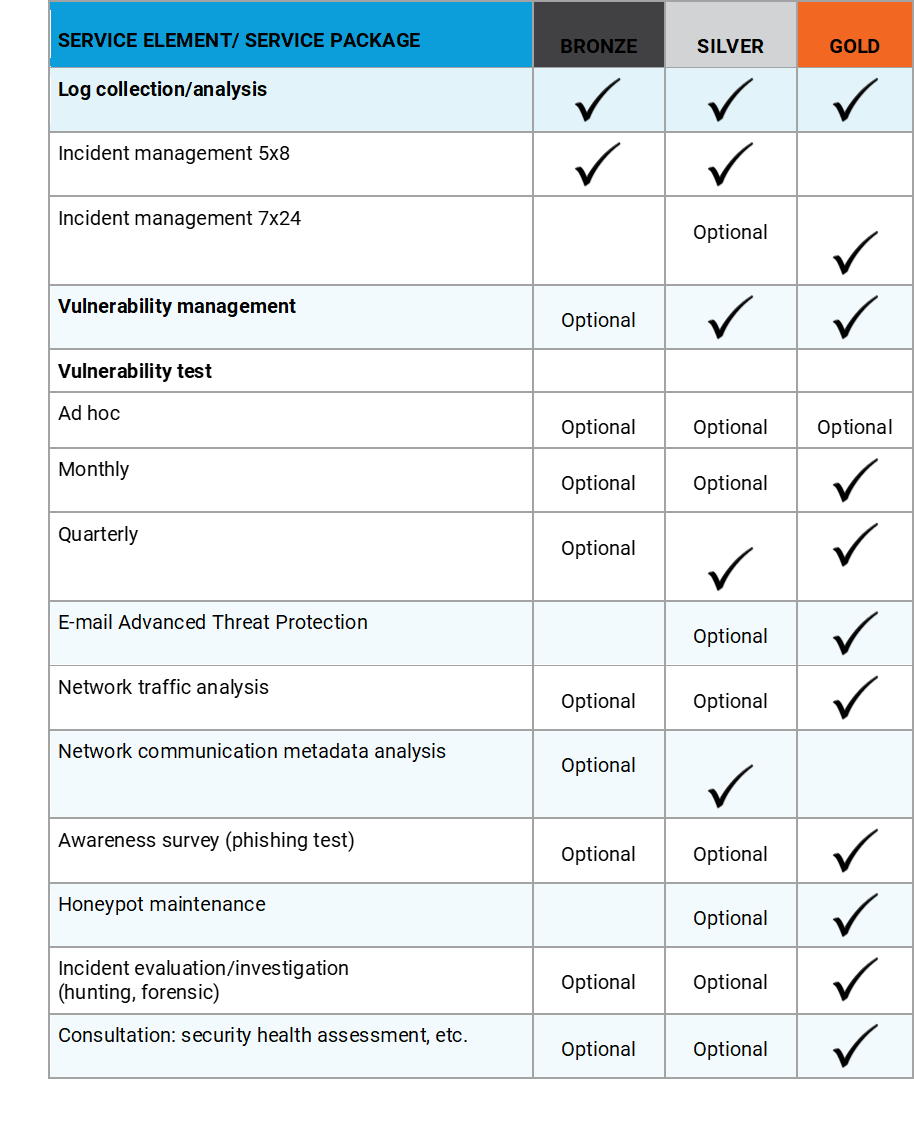 FURTHER CYBERSECURITY RELATED, MANAGED SERVICES OF 4IG
ADVANCED E-MAIL PROTECTION (PROTECTION AGAINST BEC)
Malwares, APT campaigns, phishing and social engineering attacks can only be filtered out on a behavioral basis.
INCIDENT MANAGEMENT
We proactively support the prevention of attacks, as well as the likelihood of harmful events occurring.
SECURITY AWARENESS TRAININGS
We provide users with a customized phishing campaign assessment of their level of awareness, we also secure compilation of educational materials.
VULNERABILITY MANAGEMENT
We use automated tools to detect and identify elements of the IT infrastructure, and compare them to vulnerability databases.
ENDPOINT PROTECTION (xDR)
EDR proactively detects new and unknown threats as well as past unidentified infections.
INCIDENT FORENSIC ANALYSIS (FORENSICS)
In addition to offensive solutions, we also cover forensic and incident investigation and evaluation considered as essentials in SOC.